Méribel – Savoie – France – David Livet – Instructeur de Snowboard.
Pro rider internationalement reconnu. C'est une grande chance de pouvoir prendre un cours avec ce grand passionné de snowboard. Pour ceux qui ont leur propre matériel, David poussera l'apprentissage jusqu'à l'entretien et la réparation de matériel : de quoi satisfaire les plus méticuleux.
Fiche Instructeur

Diplôme d'Etat : Snowboard
Expérience Enseignement du snowboard : Depuis 2013
Carte professionnelle FR-N° : 03814ED0421
Assurance : RCP FS – MMA N°112.023.899
Gabarit : 1m67 – 64 Kg – Pointure 41
Boards : Salomon The Vilain, Salomon the Sixtick
Tailles Boards : 153 – 160 cm
Spécialités snowboard : Carving et Boarder Cross, Back Country, Freeride, Slope Style, Flat Tricks, Half Pipe
Sens de glisse : 1Goofy – 2Regular
Stance : 58 cm
Evènement : –
Hobbies : Skydiving/WindTunnel/BaseJumping/Flying Fishing
Voyages : USA, Canada, Russie, Argentine, Chili, Japon, Suisse, Autriche, Turquie, Espagne, Belgique
Langues : Français, Anglais
Parcours Snowboard
CV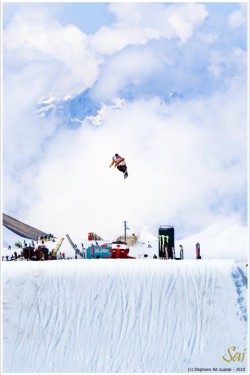 Depuis 2013 Instructeur de snowboard à Méribel et sur tout le domaine des 3 vallées
Depuis 2013 Part of the European Bench outwear team
Depuis 2010 Part of the France Salomon snowboard Team
Depuis 2009 Part of the France Seventy one percent Team
Depuis 2008 Part of the Eurpean Dakine Team
2012 – 2014 Part of the France Arnette eyewear Team
2010 – 2012 Part of the France AirHole Team
2009 – 2013 International Team Manager Oxbow
2011 – 2012 Part of the France Dragon team
2005 – 2011 Part of the International Imperium snowboard team
1996 – 2013 Part of the International Oxbow Team
Presse & Médias

Les parutions de David dans les magasines, à la télévision, dans les vidéos de snow.. sont bien trop nombreuses pour pouvoir toutes les citer. Quelques-unes pour illustrer son profil :
• Kumi Yama sur Fluofun (2014), Drôle de Vie – Full Part D. Livet by Almo Film (2014)
• Transworld Snowboarding (2013), Beach Brother (2013)
• Oxbow Back To powder sur Fluofun (2011), Snowboard Oxbow Exploration Team (2011), World Snowboard Tour (2011)
• Oxbow Back To Powder (2010), Paru sur Skipass (2010)
• Itw sur Cap Campus (2009), Paru sur Skipass (2009), Agoride (2008)
Partenaires
Salomon Snowboard, Bench, Dakine, Oakley, Seventy one percent.
Meeting Point David (Cliquer sur les marqueurs de la carte) :
Le meeting point pour votre cours de snowboard peut être à votre convenance : à définir avec David.
Contact : Demander un cours avec David